James is currently taking commissions. Please fill out the commission form below to begin the process. Take a minute to click the link below for commission terms & conditions as well as the pricing guide.
HOW IT WORKS
Fill out the commission form below. Be sure to say what type of commission you're looking for and give a good description of your idea.

I will contact you within 2-3 working days. We will discuss the details of the image, your deadline, and a quote for the project. Keep in mind I reserve the right to decline any commission requests for any reason.

After we have agreed on all the information I will send you a contract document with all the details of the project, as well as an invoice for your deposit. A deposit of 50% is required before any work will begin.

I will draw up a concept sketch and color mock-up for your approval. If you have any changes or revisions that you would like to the sketch this would be the time to tell me.

Once you've approved the sketch and colors, I will move on to painting and finalizing your work.

Your final balance is due upon completion of the artwork. Once it has been received the work can either be collected if you live in the area, shipped to you, or emailed (if digital).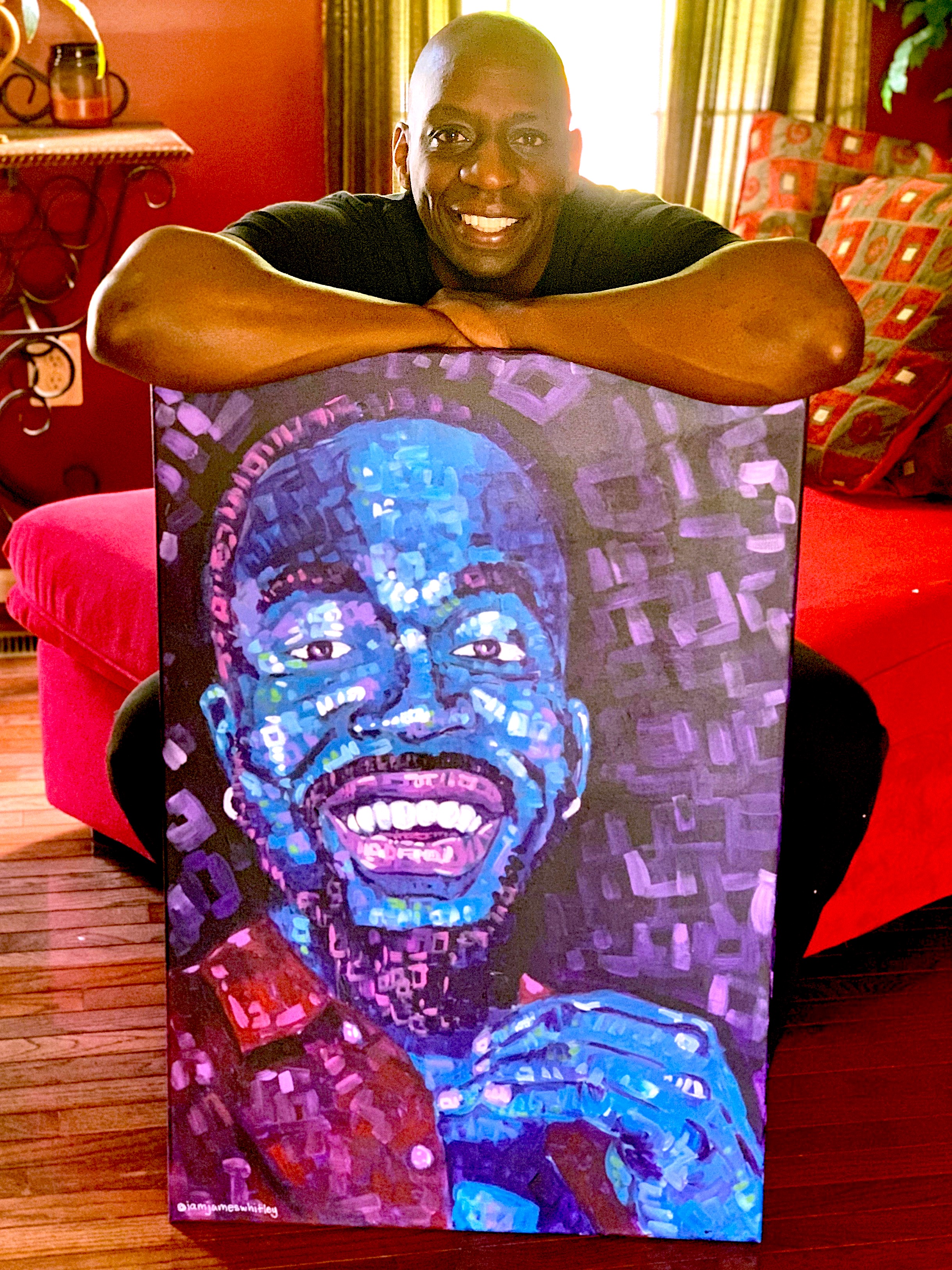 Community Leader & Owner of Jirani Coffee House
Shortly after my son Chuck's Passing James told me that he felt led to paint a portrait of him. James never met my son so he asked if I could send a few pics. I was not able to look a pictures of my son at the time so I asked James if he could just look at his FB page and he would see pictures and videos of him. James was so understanding and said he would take it from there. A few days later James sent me a text saying he had begun... a few days later he was finished! To my surprise James was not only able to paint my sons likeness but he totally captured his spirit. James Painted a picture of Chuck's Spirit!! James, Thank you so much for this labor of love. My family and I are forever grateful and will enjoy this Portrait forever!
Davide Kelly: Owner of K Street Consulting
James is an amazing artist. I requested a commission of James that was both vague and without direction, and he produced an amazing piece of art for my son's room. In addition to the painting, I requested a mural of sorts on the walls. James painted all night and into the morning to produce an energetic and exciting piece of art that regularly fills my sons room with warmth and fun. His professionalism and joyous spirit shone through the entire process. I can't recommend him more.
Allen & Noemy
My wife and I were blown away when we received one of the most amazing wedding gifts from my dear brother and friend James Whitley. To our surprise, James had sampled one of our pictures on Facebook of when I proposed to my wife at the National Harbor. The look of pure joy and shock on both my wife and I's face when he presented his masterpiece to us was worth a picture of its own. It was so amazing to see how James was able to capture all the intricate details that made that day so special for my wife and I. We are truly grateful for James heart and love behind this beautiful painting of us. We're so excited for all our family and friends to see it hanging beautifully on the walls of our home.
Siva & Jacqueline
I commissioned James for two paintings of two mothers. The paintings were for my husband and his best friend- who share a birthday and have both lost their mothers. This year was a special one for them both-professionally and personally and I wanted them to remember that they had guardian angels guiding their way.
I didn't realize how stressful it would be to have someone paint these two women—a portrait of someone's mother is so deeply personal and emotional. One never knows if their essence can be appropriately captured- and in a way that can honor their memory……
James was so generous and kind with this process—he really wanted to know about the women he was painting. He asked questions and collaborated with me constantly to ensure that we created pieces that would bring to life Siva & Jaqueline's beauty, vitality and intelligence. I am so glad that I chose James for this project and am grateful for his talent and creativity.